ANTIQUE PORCELAIN
ANTIQUES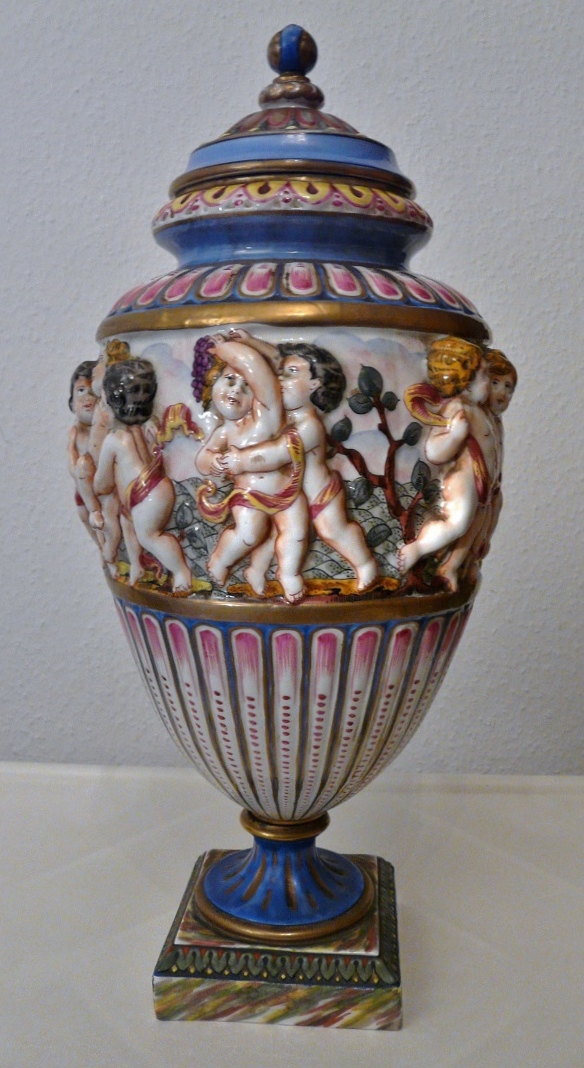 Capodimonte Vase with Cover
Capodimonte Vase with Cover 1771 - 1834; Neapolitan N Blue Mark on base - 2122 mark. Vase fastened on base with a handmade asymmetrical square nut. This piece presents normal wear marks for a piece of this age. About 42 cm high - ∅ about 18 cm - ∅ on top about 9 cm - 2,621 kg.

We offer free shipping with insurance and tracking number for this piece. Paypal purchase protection for buyers

Only one in stock
Add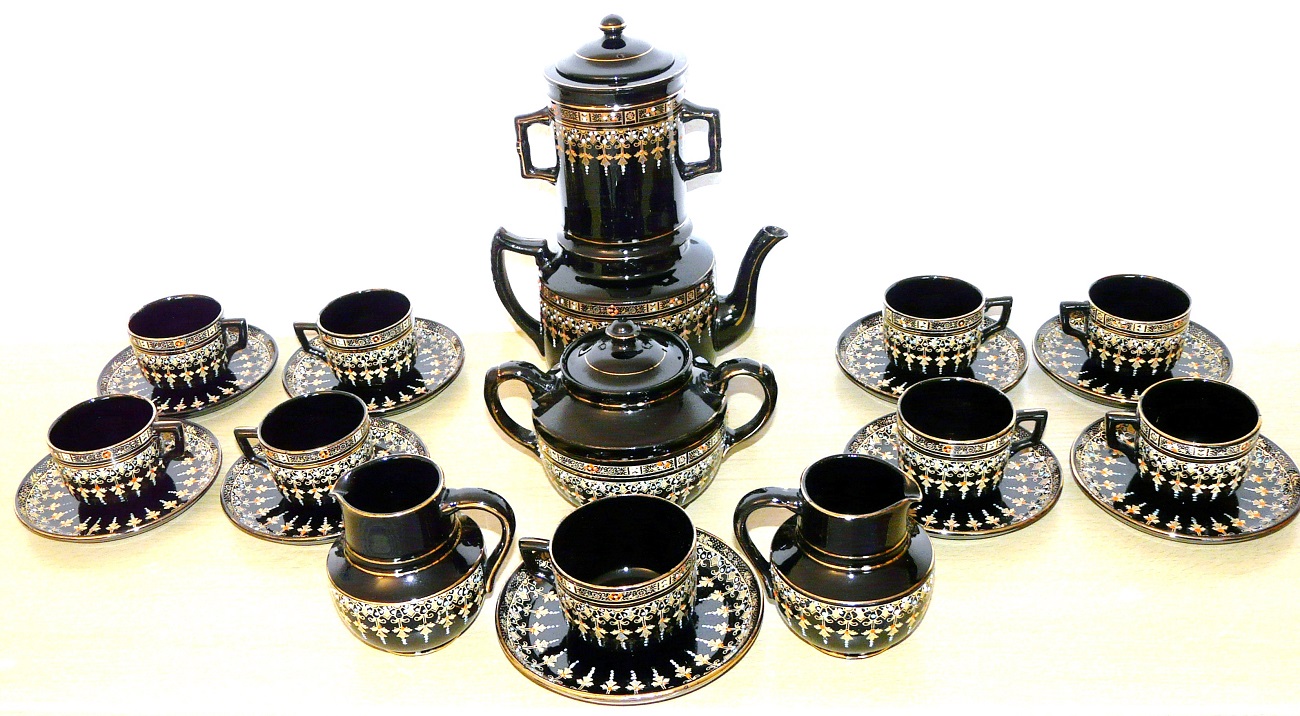 1897 Gibson & Sons Burslem Tea Set
Victoria Pattern - Registered Number: 300283 - Made in England. With normal wear marks and some enamel losses - 1 teapot (27 cm high) - 1 sugar bowl (12 cm high) - 2 milk jugs (10 cm high) - 8 cups (∅ 7 cm) and saucers - 1 cup (∅ 8 cm) and saucer.

We offer free shipping with insurance and tracking number for this piece. Paypal purchase protection for buyers.

Only one in stock
Add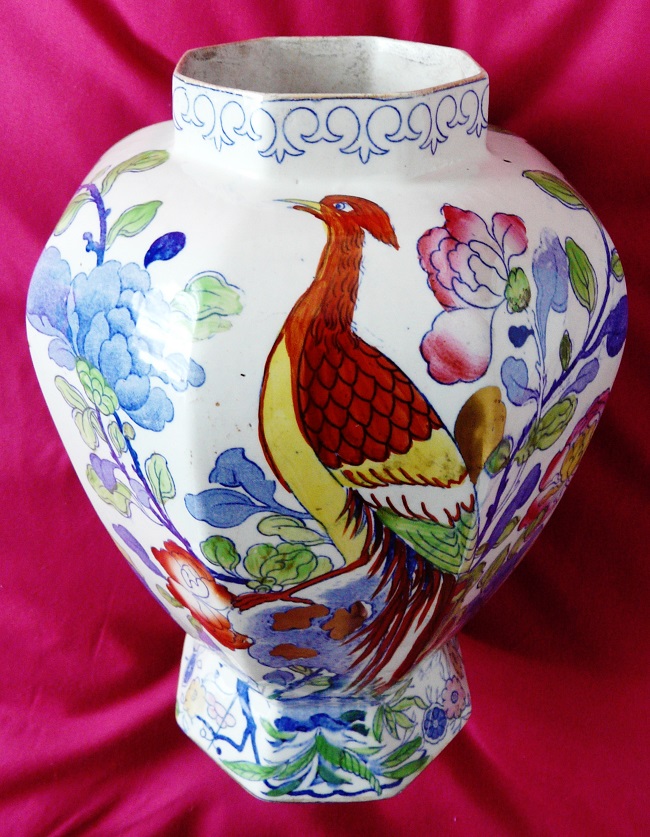 19th Century Masons Ironstone Octogonal Porcelain Vase
Fine octogonal porcelain vase with flowers and birds pattern - Masons mark on base - About 26,5 high - ∅ 18 cm - ∅ across top 9 cm - ∅ base 12,5 cm Only 1,126 kg. With normal wear marks.

We offer free shipping with insurance and tracking number for this piece. Paypal purchase protection for buyers. Only one in stock
Add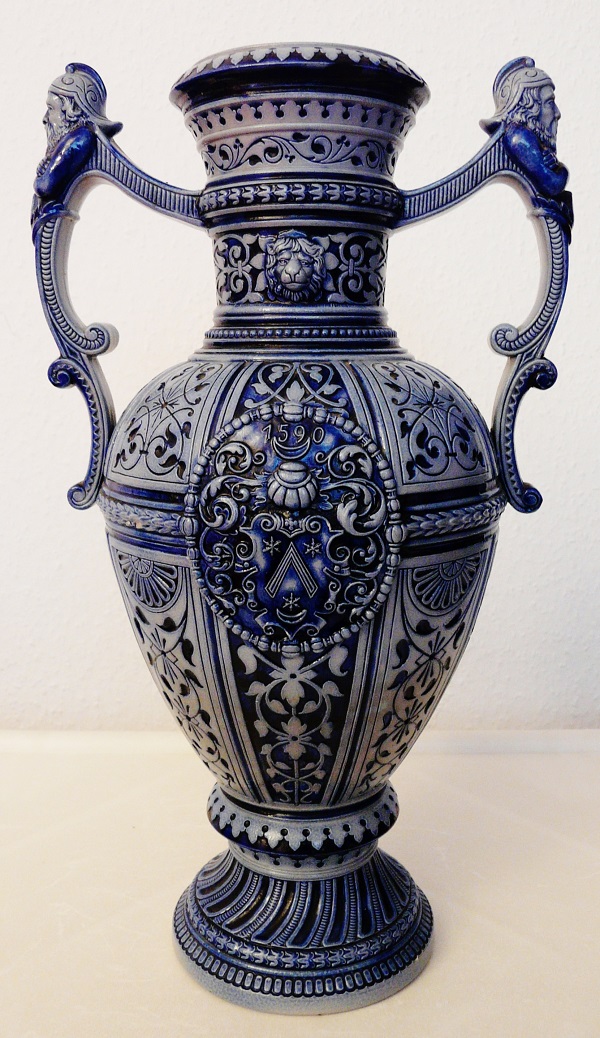 Westerwald Vase with 1590 Mark

Westerwald vase with 1590 mark - About 32 cm high - 1,55 kg

We offer free shipping with insurance and tracking number for this piece. Paypal purchase protection for buyers.

Only one in stock
Add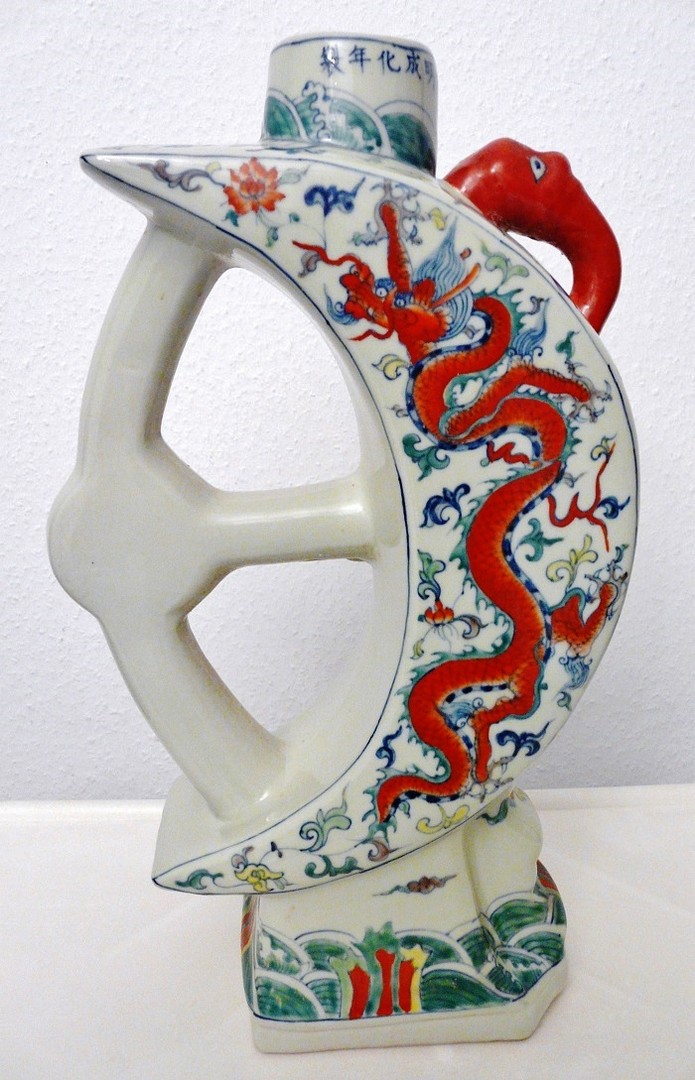 Ming Half Moonflask with Hollow Handle
Stunning Ming design half moonflask with hollow handle and Chenghua mark - Republic Era - This moonflask has a hollow handle that fills up with the flask. About 40 cm high - 22 cm wide - 3 kg - Contains 3 liters. With normal wear marks.

We offer free shipping with insurance and tracking number for this piece. Paypal purchase protection for buyers.

Only one in stock
Add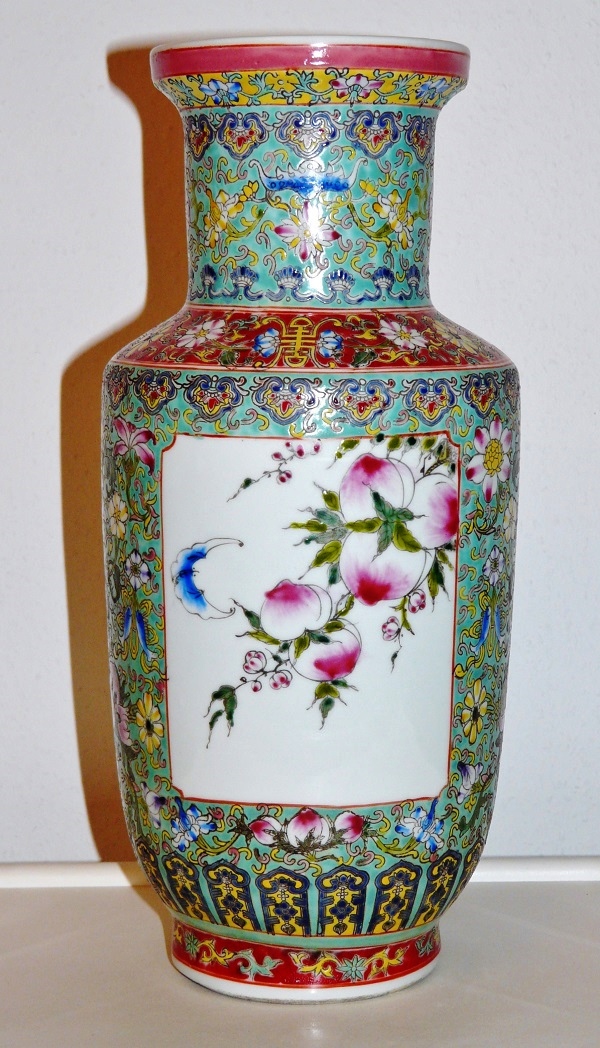 Chinese Porcelain Vase with Qianlong Seal
Stunning vase richly decorated with warm colors. Fine porcelain - Only 1,85 kg for 37 cm - Republic Era - This richly decorated vessel has two white windows with peaches and bats kept apart from each other by 180 degrees.

With normal wear marks. About 37 cm high - 16,5 cm large - ∅ across top 12,5 cm - 1,85 kg - Contains 4,5 liters. Paypal purchase protection for buyers.

Only one in stock
Add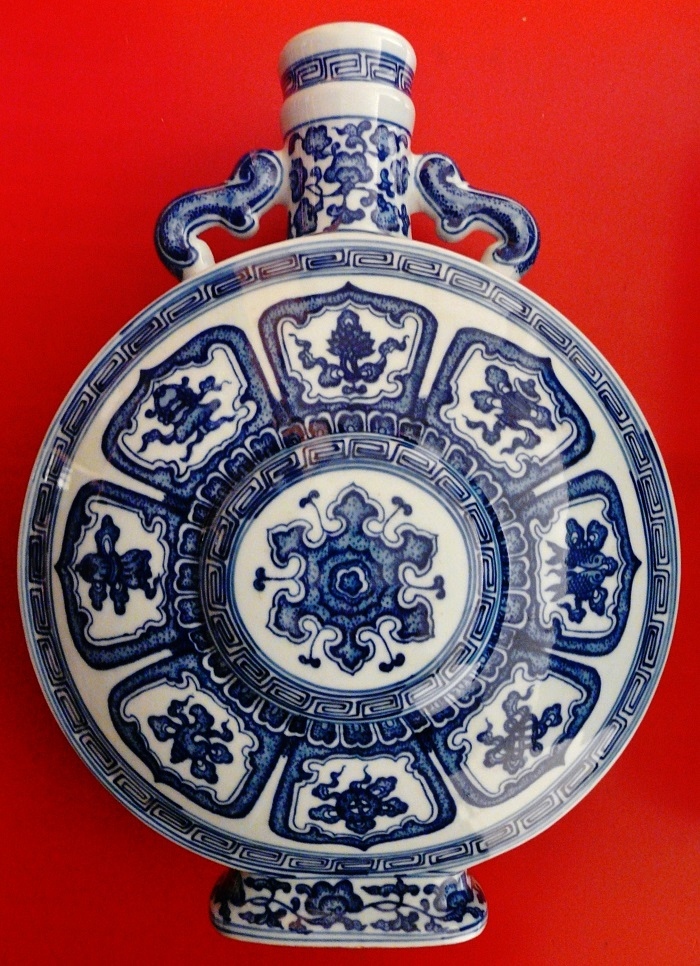 Chinese Porcelain Baoyueping Moonflask
A blue and white moonflask, Baoyueping with Qianlong seal mark - Republic Era - About 35 cm high - ∅ 24 cm - 3,360 kg Contains 3,4 liters. "Each side of the moonflask is decorated in rich cobalt blue tones with eight radiating lotus petal-shaped panels around a central raised boss with a stylised flower head. Each shaped panel encloses one of the Eight Buddhist Emblems, bajixiang. The flat sides are decorated with a stylised lotus scroll with large blooms on leafy tendrils. The neck, painted with bands of lingzhi scrolls, is flanked by a pair of scroll handles. The spreading foot is similarly decorated." Paypal protection for buyers - Only one in stock.
Add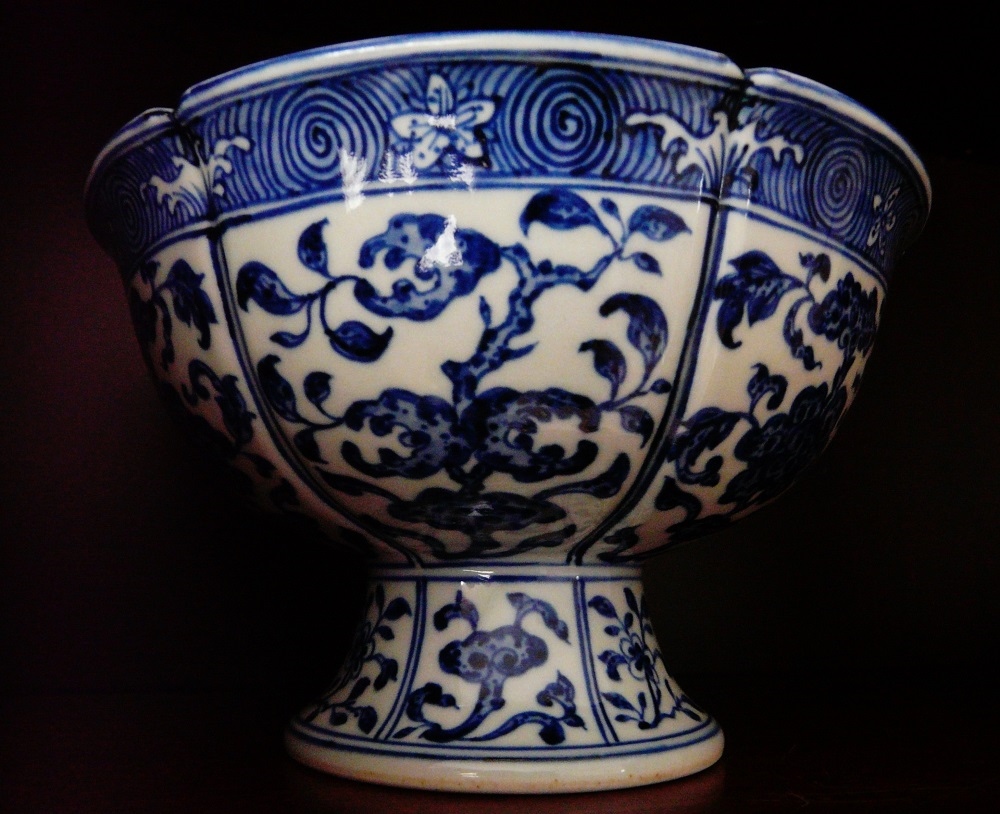 Chinese Porcelain High Stand Lobbed Bowl
Six parts lobbed bowl with three identical designs allowing three different designs in between - High quality deep blue pattern - About 12 cm high - ∅ across top 18,5 cm - ∅ across bottom 9,5 cm - 831 gr - Yongzheng seal on base - Republic Era - With normal wear marks.

We offer free shipping with insurance and tracking number for this piece. Paypal purchase protection for buyers. Only one in stock.
Add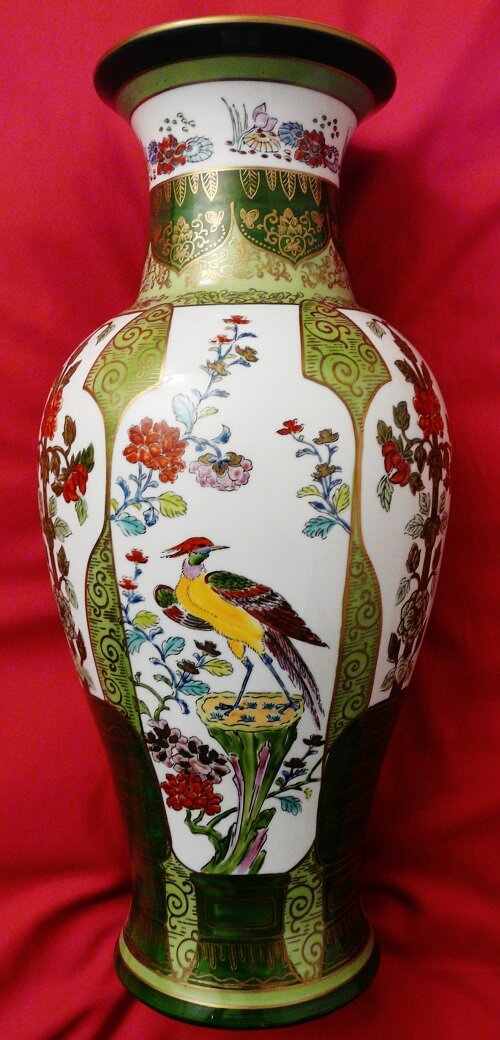 Japanese Porcelain Vase

3 different birds and flowers patterns separated from each other with a same flower pattern. Golden scrolls on dark and light green ground - Red mark on base - Warnecke certificate included - About 46 cm high - 3,560 kg - With normal wear marks.

We offer free shipping with insurance and tracking number for this piece. Paypal purchase protection for buyers.

Only one in stock
Add